Air Force School Jammu has adequate Space for classrooms, special rooms, school halls, staff rooms, office rooms; library etc.The building is well ventilated with safe staircases and ramp pathways for easy and proper evacuation of the building in day to day activities as well as any emergencies. For the well being of all, the school has installed Fire extinguishers in all the classrooms, laboratories as well as well all other departments.


Well Furnished Classrooms:
We have well ventilated and aptly lighted classrooms. All classrooms have tiled flooring, white boards along with smart boards. The whole ambience is student oriented with colorful furniture, safe and comfortable seats for the students. Byju's smart boxes have been installed in classes 9 th and 10 th for better learning in Science and Maths subjects.


" Theory guides Practical decides"
Our educational policy promotes interest curiosity and knowledge. We follow the principle of learning by doing. Laboratory work forms an integral part of curriculum. We have well equipped senior and junior computer labs, Physics, Chemistry and Bio lab. Click here for more Details about Labs
Synthetic Basket Ball and Volley Ball Court:
    A synthetic basketball and volley ball court has been constructed in the school premises.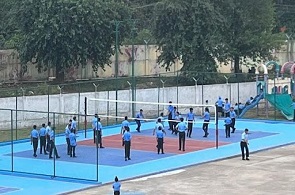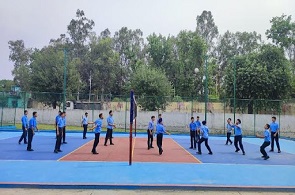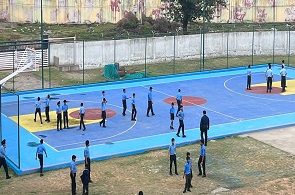 Conference rooms help to make the meetings run more smoothly. The school has provided a comfortable and professional setting for various meetings to be held. It has a smart screen and a smart podium.


Multi Functional Play Station

:
The multifunctional play station installed in the nursery wing not only adds to the ambience of the wing but also provides for a play way method of learning.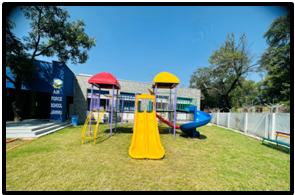 The campus has well designed and well decorated toy room with pleasant feeling. It is just like heaven for our tiny tots. A huge toy-room is available with innumerable educational and recreational toys to help the children relax as well as learn while the play toys, blocks, puzzle, kitchen set, doctor set and mats.


Art helps the students in developing their creative skills. The students use paints, oil pastels, origami sheets, fevicol and lots of other things in the drawings. The students have a great time in learning lots of new skills and techniques and they produce some wonderful art work too. Art Room is a place for practicing artists to hone in on their skills, develop their techniques and portfolios, collaborate with other artists like themselves, create bonds with the community through the arts, and learn how to work together through group projects that will beautify the school and community. Students learn how to observe and how to execute their observation on the papers. They learn human figure drawing and painting too. In case their day to day learning process of various subjects, art provide them a platform of relaxation and enjoyment too with a combination of creativity and satisfaction. All these skills are tutored by the Art & Craft teacher .


Music has become an integral part of our lifestyle today. Everyone with an aesthetic sense loves music but the choice of music is different for every person. Sangeet works to make our life better. The nature of music is also to encourage and promote, which also works to increase the power of concentration of man by removing all negative thoughts. Air force school has very spacious music room with all types of equipments. Music classes at school can help to reduce stress and depression, thus preventing physical health issues. Music classes in schools help students relax by synchronizing with the beats and this way they are able to concentrate on subjects. .


To ensure safety and well being of all students and staff, the school has installed CCTV cameras in all the classrooms as well as corridors and grounds etc.
The school has installed global PA system for making announcements as part of emergency communication system.
Excellent connectivity in every nook and corner of the school is provided for better functioning of teaching and learning process
Sanitary Napkin Vending Machine
Sanitary napkin vending and incernator for better hygienic facilities to the girl students. The school has installed these machines in the new building girls washrooms as well as female staffrooms. This machine is a self service machine used for dispensing sanitary napkins against acceptance of coins.